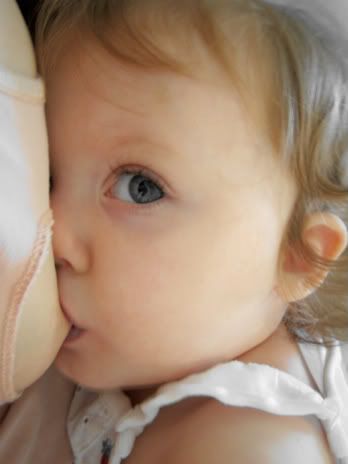 My stats teacher thinks the best idea is to give tests every two weeks. While I acknowledge this makes each test a more manageable feat, while also decreasing the value of each individual test, it does leave me in a constant state of panic because I always have a stats test on the horizon. I had one, today in fact, unpleasant little beastie, but I did some good studying, made a cheat sheet fully demonstrative of my anal neurosis, and went in a little before class to go over the notes once more and see if any of my classmates wanted to review. Naturally, before long, the conversation had turned to women's health issues (why does this always happen to me? I swear I didn't bring it up!). One classmate, bless her heart, said that she wanted to breastfeed but the minute the kid had teeth she was done. Given her background and education on the matter, I don't blame her for a second. It seems reasonable enough. But the first deciduous incisors generally begin to erupt between
6 and 12 months of age
, a little early, according to
several
different
reputable sources, to wean (in case you didn't read the articles, the World Health Organization recommends breastfeeding for a minimum of two years and the American Association of Pediatrics for a minimum of one year).
The conversation progressed, as I feared, to the even more ubiquitous reason cited as an appropriate indicator for weaning: verbal skills. "As soon as the kid can ask to breastfeed, you know things have gone too far!" comes the clarion call. It is a commonly held belief that verbal skills should stand between a baby and the breast but, I think, a nonsensical one. Lots of kids have verbal skills before they reach their first birthday, and most are communicating well before their second. Some communicate much earlier than others; are they just outta luck?
I couldn't help jumping into the conversation (you know me!) and I said that while I understood the reasonable fear of breastfeeding a teething baby, I knew many women who had done it successfully (two of my best friends are currently breastfeeding toddlers with mouthfulls of pearly whites). I suggested that perhaps there was an evolutionary/design advantage to young babies developing teeth; perhaps it aids in the process of individuation when they bite the mother and (unfortunately for her!) she exhibits a pain response. Who knows (I don't), but what I do know is that weaning very young comes at a pretty high cost to mothers and babies, and the decision warrants greater consideration than only that of the mother's usually momentary discomfort or, I'll admit it, pain. Just my two cents.
Then a man entered the conversation and began to ardently concur that kids with teeth have no place breastfeeding. The conversation became a little bit heated and he turned at me, made that nice aggressive eye contact we all know and love, and said (really, sneered) to me "Do you even have any kids?" I said that while I did not, I had done hundreds of hours of research on the subject and personally witnessed many happily breastfed toothy toddlers. He didn't break the gaze, so I responded "Have you ever breastfed a baby?"
I should have deescalated. It would have made for a more pleasant pre-test atmosphere, but dude pushed my buttons. Them was fightin' words.
"...No."
"Well, then, it sounds like we have both based our opinions on our secondary experiences."
If left me feeling sick and jittery, as a body flooded with adrenaline is wont to feel. I really don't like aggression, but issues pertaining to women's and children's health are deeply important to me; important to the point that I actually identify myself personally with their defense. I will admit I was strident. I was ineffective. I was pissed as hell. It is so painful to me to be dismissed when I feel like I have worked so hard for the information I possess and it is devalued or, worse, mocked, and I let my emotions, not my more-compelling reason, get the best of me.
In a recent post I spoke about breastfeeding and was accused of being strident and unapproachable--by another woman. Of course, this is not my intent. But at times I come to grips with the complex reality that at times I value my identity as a self-proclaimed women's health aficionado over my relationships with people. My values are important to me, as is the information I have sought and believe is true. But so are people. How do we have successful conversations with people who deride the information we hold so close that it has become part of us?
Clearly I don't know.
I was distracted through my entire test. My mind kept careening back and forth between wanting to apologize to the nitwit misogynist (JUST KIDDING!!! LIGHTEN UP!!!) and recognizing that just because a few people, myself included, were uncomfortable, I don't need to apologize for being knowledgable or honest. It's tricky. Perhaps one day my opinions won't feel so vulnerable that I have to protect them with my rage, but, then again, perhaps a little rage for a capable woman can do some good; heaven knows it wouldn't be the first time.